So, Christmas is round the corner and we all have things we wish for. I know we aren't children anymore and we can't circle every single toy in the Argos magazine, OH how i wish we could! So anyway, I thought I would put together my naughty wishlist of all things kinky, lacy, silky and silicone (and things I can't afford. But a girl can wish right?!)
LINGERIE.
My one true, true love in lingerie. I wish it was acceptable to walk around in it 24/7 and never have to wear clothes. But I suppose we have to keep something to the imagination don't we. So here goes..
Agent Provocateur –Saffi set.
It's beautiful, it's classy. Its everything i need in an underwear set. I am always always a sucker for all lace and I imagine I always will be. I always think during Christmas it's nice to take a step back from the classic black and red undie set you see in every store window. Saffi.. I love you and I WILL own you one day.
2. Ann Summers – Posey.
Look at the colour of this amazing body! Just look at it. It's so different to what's out there at this time of year! I always love getting a beautiful lingerie outfit which I can wear under my clothes to keep as a tease while I'm out with my boyfriend. (Yes I am that girlfriend) So this is perfect for it. It would also look so sassy under a low cut shirt with a hint of that electric blue peeping through… *Heart eyes emoji*
3. Journelle – Bianca.OH EM GEE. I am head over heels for this set. The colour is warm and beautiful for this time of year and always nice against a tan for summer too. I wear a none padded underwired bra most of the time and I always love a strappy look on the bust. I also love the delicate lace mixed in with the strappy details on the bra and suspender belts, It creates the perfect naughty but nice combo.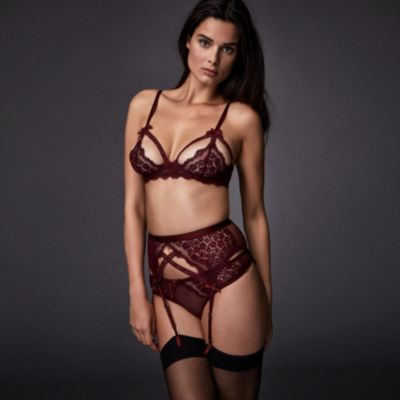 Accessories. 
Saints and sinners – Classy slave collar.
Well, I sure do enjoy something round my neck when I'm getting down an dirty. I own a leash and I have a couple of the leather collars you can attach your own leads to. But none as classy and sassy as this. It's not just me that thinks I could wear this out of the bedroom is it?
2. Pretty polly – Seamed holdups.
Hold ups are a staple piece we all need to own. And a good quality is important too! So I'm hoping to hunt down a store local to me that stocks Pretty Polly so I can get my grubby mits on these seamed hold ups… And imagine myself wearing them with the AP Saffi set…
3. Agent Provocateur – Suitcase.
It's so unrealistic that i'll ever own this but I really am dreaming about it. I have my lingerie and toys stored in all sorts of different places and I think in an ideal world where I own everything I lust over, this is the perfect storage I would like to use. But for now I will carry on using multiple clutch bags and trunks… God damn not being born into a super rich family. 
Sex Toys.
Love honey – Lelo Smart wand.
Lelo is am amazing brand, it's got amazing toys and is a great great quality. I don't yet own a bodywand/magic wand and I hear and read about them every day of my life, and it's making me feel like theres something missing from my life.. So, it's obviously this. I always try and go for a rechargeable toy over battery so this is the winner for me. With it also being fully waterproof and you get 4 hours play.. I can't imagine there's not much to love.
2. We Vibe – we vibe sync.
Okay, I own two we vibe toys and they are my favourite, and I'm still yet to write about them and compare the two I have together. I own the 3 and the 4 plus so it's obvious I NEED the sync. I will make sure my next blog post is about the we vibes because I have SO much to say about them and I LOVE LOVE LOVE them! So santa.. Please put this under my tree.. I'll even give you the remote!
3. Ann Summers – Morgasm contour rabbit.
The morgasm contour rampant rabbit. It's probably the softest thing I have ever felt in my life. (And I have petted ALOT of dogs.) I urge you.. If you have a local Ann Summers store to go in and see the demo of this toy. Just feel the material.. I have and I promise you, it'll be on your wish list too. Again, this toy is rechargeable and waterproof.. Winner!
So, I think I have included most of my most wanted and needed prodcuts. I hope you all have a wish list as fun as mine! If you think I have missed anything major off please remind me as it's more than likely that I'll be treating  myself to most of this.
Also, If anyone wants to treat a lovely girl like me, I've put links to all the products you see on this list 😉
Lot's of love n fun, FL X